Human Powered Challenge

2006

The Human Powered Challenge is Kiwi HPV's premier event.

The 2006 event took place on Sunday 15th October.  

The HPC is a multi-race event, intended to encourage all HPV enthusiasts to design, build and test their own cycle creation.

---
Results:

---
Videos:

---
Photos:
Click on any photo to enlarge.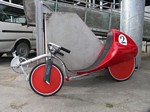 Entry #2 – Bob Knight raced the Burrows Ratracer to great effect, placing second in the Challenge.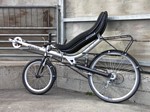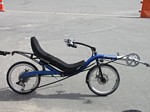 These two elegant European production SWBs were in attendance at the event.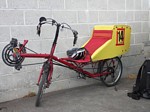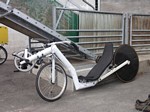 Left – Now the mount of Symon Holmes, the Flying Furniture PBP SWB has put in many kilometres in its life.   Right – Helmut Walle was the pilot for Aarn Tate's ARC Sports SWB. Helmut rode this to third place.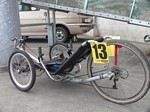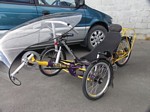 Left – Regan Bertie designed, built and raced this aluminium tricycle.  Right – Bruce McDowell's fully suspended tricycle didn't compete, though it attracted many admirers.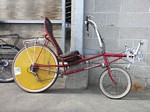 Left – Martin and Linda White entered as a team, taking turns to ride their Kingcycle SWB.  Right –  Mike Toohey brought along his Lightning SWB.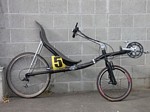 Entrant #5, Gavin Williams proved very successful, riding his self-designed and self-built RP2 SWB to first place.  He's the one to beat in 2007!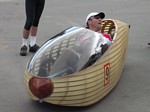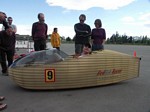 The faired linear drive Red Rak Racer owned by Tim Bayley of Nelson, and ridden by a team on 5 riders, attracted a great deal of attention.  Sadly a series of on-the-day snafus meant that the trike didn't fare well in the HPC.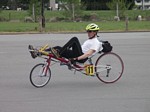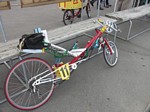 Richard Middleton's well-considered fully-suspended MWB won the trophy for outstanding design at this years HPC.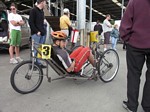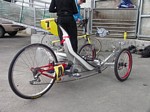 Brothers Tim Johns and Nick Johns both entered tricycles in the event. Tim's design (on the left) is a FWD RWS tadpole trike, quite an unusual configuration even in the unconventional world of HPVS.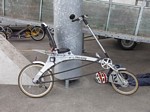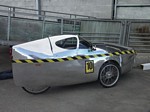 Daphne Robson rode her Velocity LWB to the event, while her husband Gavin Keats campaigned his Carnot velomobile in the HPC.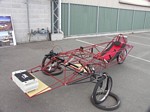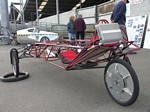 The Solar Fern Racing team were at the event, displaying their vehicle which they intend on competing with in the World Solar Challenge in Australia in 2007.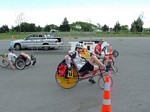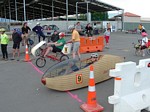 Some scenes taken during the day, most of them showing the vehicles lining up in pairs for the 200m Drag event.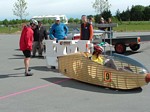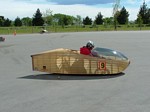 The Re Rak Racer looked very attractive in the sunlight.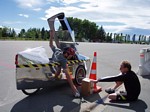 As did the Carnot, seen here during the cargo race.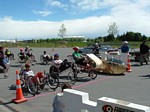 The entrants lined up just before the start of the One Hour Enduro event.